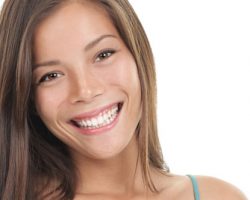 If you started today, it's possible that you could complete your orthodontic treatment in time for Christmas.
Really, it's true. With Fastbraces®, you can move your teeth in a fraction of the time that it takes traditional braces.
If you live in or near Alma, MI, our dentist office can examine your teeth and help you decide if Fastbraces are right for you. To get started, call 989-796-4848 or contact us online to schedule a consultation at Mid-Michigan Dental Excellence.
Find out today what Fastbraces could do for your smile.
What Braces Do
Braces of some kind or another have been used for centuries to change the position of teeth.
What we consider traditional braces today generally use brackets and wires to push and pull teeth to create smiles with straight teeth that are parallel to one another and evenly spaced.
Braces also can be used to fix alignment issues with someone's bite. Overbites and underbites may be the most common concerns, but braces have been used to correct crossbites and open bites as well.
How long a patient has to wear braces can vary depending on the severity of his or her alignment issues. A typical patient can expect to wear braces for about two years.
Fastbraces can do all those things as well. The main difference is you may be finished with Fastbraces in about six months.
How Fastbraces Are Different
To best explain how Fastbraces can work in so much less time than conventional braces, we will need to contrast these systems.
We all agree that braces can work on practically any teeth alignment problem you can imagine. Fastbraces were created to achieve that goal in less time.
Conventional braces move teeth in stages. Each stage lasts about 12 months, which is why the total treatment take about two years.
During the first stage, braces will be used to move the crowns of your teeth. These are the parts of your teeth that are visible to the world. During the second stage, braces reposition the roots.
At the end of any orthodontic treatment, patients should expect to wear a retainer for a short time to help prevent relapse, which is when teeth drift back toward their original positions.
Fastbraces work a little bit differently. Where conventional braces have square or rectangular brackets, Fastbraces use a unique triangular bracket. That affects the force applied to your teeth and the way in which that force is applied.
As a result of this, Fastbraces are able to move the crowns and roots of your teeth at the same time. This allows your smile to change exponentially faster.
Six months might not seem like a long time, but it is possible to fix your smile in that amount of time. In some cases, you may need a little more time, but some patients can finish in as little as four months.
Fastbraces Aren't Just Short-Term Orthodontics
There are other orthodontic systems that claim they can change your smile in about the same amount of time as Fastbraces.
You may have seen these described as "short-term orthodontics." The difference is that many of these systems are focused on one thing — making cosmetic improvements to your smile.
Don't misunderstand. Fastbraces will give you a nicer smile, but it also does some things that these cosmetic options don't do.
Many short-term orthodontic treatments work by moving just a few teeth in the front of your mouth.
With Fastbraces, you can enjoy the convenience of short-term orthodontics with many of the benefits of more traditional braces.
About Our Doctor
By coming to Mid-Michigan Dental Excellence for your orthodontic care, you will have Dr. Thomas McDonald to provide your treatment. After growing up in Detroit, Dr. McDonald attended the University of Michigan-Dearborn before going to the University of Detroit Mercy School of Dentistry.
His education didn't stop there, however. In the past 30 years, he has taken hundreds, if not thousands, of hours of continuing education on a variety of dental fields, including orthodontics.
The fact that we offer Fastbraces is one example of our commitment to provide the best possible care for our patients.
If you would like to more about this or any of our other services, contact us online or call 989-796-4848.