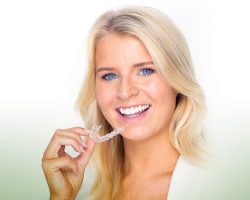 A lot of people are put off by the appearance of traditional braces. Just as many are worried about the length of time they'll have to wear braces – two to three years, in most cases.
Appearance and the length of treatment aren't the only considerations with traditional braces. Braces also come with a host of restrictions on what you can eat. They can irritate your tongue, gums, and the insides of your cheeks. Maintaining good oral hygiene can also be a challenge. Nevertheless, traditional metal braces, consisting of pads and wires, are the treatment of choice for most complicated teeth realignments.
But if you're just looking to correct some flaws in your smile, our short-term orthodontic solution may be the answer for you. After all, why move more teeth than you need to?
Our Red, White, and Blue Clear Aligners
For people who just need to fix the visible part of their smile, we proudly offer our Red, White, and Blue plastic aligners. These clear, nearly invisible plastic trays are customized just for you and can give you the smile you want in as little as six to twelve weeks.
Each aligner in your customized series moves your teeth just bit, and then you switch to the next tray to continue the process. You'll wear the red tray for two to four weeks before switching to the white tray. After another two to fours weeks, you'll finish creating a more beautiful smile with the blue tray.
Our Red, White, and Blue aligners can produce the results you want much faster because they're not designed to correct problems with your bite. That means moving far fewer teeth to create a pleasing smile rather than moving a bunch of teeth to make sure that everything in your mouth lines up properly.
Red, White, and Blue Advantages
Invisalign is probably the best-known shorter-term orthodontic solution. Many people wonder how our Red, White, and Blue aligners compare to Invisalign. Our aligners are made in the U.S. and can offer significant savings over Invisalign treatment. Like Invisalign, the clear Red, White, and Blue trays are very hard for others to detect while you're wearing them. People who may be concerned about the impact of short-term orthodontics on their social or professional lives can rest easy.
With our Red, White, and Blue system, there are no food restrictions. You remove the trays to eat all of the foods you love and to care for your teeth. The clear, smooth, plastic aligners won't irritate the insides of your mouth. And, they're created to fit snugly so that you don't have to worry about them coming loose or popping off, even while you sleep.
Best of all, you can have straight teeth and a more beautiful smile in as little as six to twelve weeks instead of the two to three years that traditional braces take!
Not for Everyone, But They May Be Right for You
Let's be clear – our Red, White, and Blue aligner system won't correct problems with your bite or back teeth that are badly misaligned. We offer traditional braces for people whose teeth need that kind of movement.
But if you want a more beautiful smile in a matter of a few months, consider our Red, White, and Blue treatment option.
With our short-term orthodontic treatment, you can get a winning smile in as little as 6-12 weeks. To schedule a consultation with Dr. McDonald, call our office today at 989-796-4848. You can also use our convenient online form to reach us.