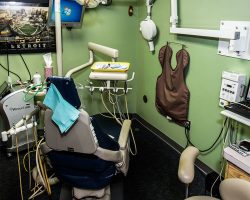 Dr. Thomas J. McDonald believes in putting the needs of his patients first. That's one of the reasons he continues to take education coursework –  so that he can stay up to date on technologies that improve the dental experience.
Some of the technology that Dr. McDonald has brought into his practice to improve the patient experience include digital panoramic X-ray, the CEREC system, which lets him create a crown in about an hour and a half. He is also practicing a brand new root canal technique.
Make an appointment with Mid-Michigan Dental Excellence by calling 989-796-4848 and see for yourself what our technology can do.