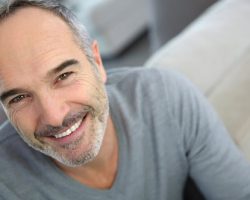 Losing teeth is not a good thing.
Often it means you are having an oral health issue, such as tooth decay or gum disease, or you have been injured in some way. We don't want either of those things to happen to our patients, but if you or someone you care about does lose teeth, then Mid-Michigan Dental Excellence wants to help.
Getting a dental crown or dental bridge can do more than just fill the empty space in your smile. It can restore the function of your missing teeth, and it may help prevent further tooth loss down the road.
To learn more about which is right for you, we welcome you to schedule a consultation with Dr. Thomas McDonald, our dentist in Alma, MI. You can contact us online or call (989) 796-4848.
When You Should Get A Dental Crown
Dental crowns are the best solution when you have a tooth that has been damaged. A broken or cracked tooth could be at risk. Likewise, a tooth with a large cavity or an infected tooth could become too weak to remain in your mouth.
In these situations, a dental crown could save the tooth before it falls out.
In the cases of broken, cracked, or decayed teeth, the first step is removing the parts of the teeth that are damaged or decayed. This leaves the healthy parts of the teeth to act as a support for the dental crown.
If you come to Mid-Michigan Dental Excellence for your crown, you can take advantage of our state-of-the-art CEREC machine. Using CAD/CAM technology, we can create and place your dental crown in a single visit to our office.
Without this technology, you may have to wait for weeks before your dental crown is ready. With it, you can get your dental crown in a matter of a few hours.
For an infected tooth, getting a crown is the final step in a root canal treatment. After removing the infection from the inside of the tooth, the tooth is filled. The crown protects against further infection and restores the natural appearance and function of the tooth.
When You Could Get A Crown Or A Bridge
Some people don't think losing a tooth is a big deal. These people generally fall into two categories — children who are losing their primary teeth and adults who still have a full set of teeth.
A missing tooth can have a big effect on your confidence, and it can affect the function of your whole mouth. When you have an empty space in your smile, nearby teeth may "drift" into the area. This can change your bite (making it harder to bite and chew), and it may leave those teeth at risk of falling out as well.
This is a situation when you have the option of getting a dental crown or a dental bridge.
If you choose the crown, you will need something to support it. A dental implant can be placed in your jawbone to replace the root of your missing tooth, and a crown can be bonded on top to restore the form and function of your lost tooth.
A dental bridge is formed by bonding multiple crowns together. In the case of a single missing tooth, your bridge would consist of three crowns. Two of them would be bonded to the teeth on either side of the gap in your smile.
Those teeth would be reshaped like they would if they were getting a dental crown. When the bridge is bonded to them, they provide the support to hold it in place.
When You Should Get A Dental Bridge
If you are missing multiple teeth, an implant-supported dental bridge is a better option.
In this case, the implants rather than other teeth would provide the support for your bridge. The implants are placed where they will provide the maximum stability and security for your bridge, and the bridge itself will restore the appearance of your smile.
When everything is in place, you will be able to eat as well as you could when you had all your teeth.
Ready To Learn More About Teeth Replacement
We've touched on the different ways to replace one tooth or a few teeth in today's post, but we know you may have more questions about these procedures.
A great way to learn more about them — and to learn which option is best for you — is to contact our dentist office in Alma, MI, to schedule a consultation with Dr. McDonald. You can call (989) 796-4848, or you can reach us by filling out our online form.