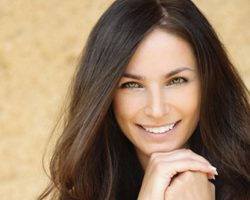 You can change your hair and buy new clothes in one day. Wouldn't it be nice if you could transform your smile in less time than traditional braces take? You can do just that with short-term orthodontics and Fastbraces®.
In today's world, people want to do things in a hurry. The good news is that modern technology helps us do almost anything a lot faster than we used to. Now that includes straightening your teeth! The fix may not be instant but it is a lot faster than it used to be.
Do you have crooked, gapped, or chipped teeth that make you self-conscious? Sometimes teeth come in tilted, sideways, or overlap each other. Braces are a way to align your teeth and give you a beautiful smile. But who wants to deal with metal braces for a couple of years?
At Mid-Michigan Dental Excellence, we have an option for straightening your teeth with a much shorter treatment time than traditional braces – Fastbraces! Dr. Thomas J. McDonald will be glad to talk about Fastbraces with you. Call 989-796-4848 to set up a consultation at our office in Alma, MI.
In the meantime, here's some information about how Fastbraces work and what advantages they have over traditional braces.
Traditional Braces Vs. Fastbraces
When teeth come in crooked, it means the root is usually not in the correct position. Braces move your teeth gradually until they're in the right position and are straight.
With traditional braces, treatment can last a year or two. With Fastbraces, you can get results in as little as 20 weeks.
In general, braces move teeth into correct position by applying continuous pressure over a period of time. Traditional braces use brackets that can be made of metal or ceramic. A bracket is attached to each tooth using bonding material. We then add a thin metal wire (called an archwire) that runs from bracket to bracket.
The archwire is held in place by elastic bands. At each dental appointment, we will add pressure to the archwire to help the teeth move into the desired position.
Fastbraces are a modern alternative to traditional  braces. The difference lies in the structure of the bracket. Fastbraces use triangular  brackets that  helps lessen bone resistance where the straightening is happening.
Traditional braces move your teeth by directing the movement of the roots and crowns separately. Fastbraces moves the roots and crowns at the same time, making the treatment time much shorter.
What We Can Do
Are you self-conscious about crooked teeth? Maybe you have a gap that you don't like. Dr. McDonald can look at your teeth and determine whether Fastbraces will help your smile. You won't find this option at every dental office in Alma, MI.
Some issues that Fastbraces may be able to correct:
High canines. These happen when there isn't sufficient room in the arch for them to erupt.
Crowded teeth. When there just isn't enough room in the mouth for all of your teeth to come in properly, you get crowding.
Open bite. This happens when your teeth don't make contact with their opposing teeth.
Overbite. An overbite happens when your upper teeth stick out past your lower teeth, creating an improper bite.
Fastbraces:
Use one wire
Are less expensive than traditional metal braces
Create lessh risk for tooth decay around the hard-to-clean brackets
Are more comfortable than metal braces. Studies have shown that Fastbraces technology has lower levels of sliding friction
Show immediate root movement
Are more convenient than traditional braces
With Fastbraces, the retainer you'll wear after treatment is only worn for 15 minutes each day. With traditional metal braces, retainers are worn 24/7.
Make an Appointment for Short-Term Orthodontics
Are you a good candidate for Fastbraces? Ask yourself:
Would I like a straighter, more beautiful smile?
Would I like to get that smile in months as opposed to years?
Would I like to pay less than I would pay for traditional braces?
If you answered yes to any of those questions, Fastbraces may be the solution you need.
If you don't like your smile because of crooked or crowded teeth, take steps to do something about it. Call Mid-Michigan Dental Excellence at 989-796-4848 to set up an appointment with Dr. McDonald. You can also fill out our online form.