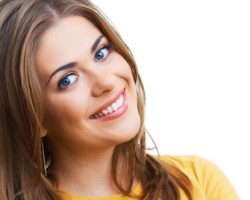 You have wanted to change your smile for years, so don't let another year go by without doing something about it. In 2017, make an appointment with Mid-Michigan Dental Excellence to discuss our cosmetic dentistry.
You can do a lot of things to improve your smile, which might just lead you to smile more often. Do you want straighter teeth? A whiter smile? Something else?
Whatever it is, the team at our dentist office in Alma, MI, will be here to support you. Together, we can find a solution to give you the smile that you want to see before 2018 arrives.
The first step is scheduling a consultation with Dr. Thomas J. McDonald. To do that, either fill out our online form or call 989-796-4848.
Here are some of the ways we may be able to help you or someone you love.
★ 1. Whiten Your Teeth
What is the fastest way to improve the appearance of your smile? It's to have white, bright, clean teeth.
That could explain why teeth whitening remains one of the most popular (if not the most popular) cosmetic dental service. And before you ask, yes, there is a difference between the professional teeth whitening you can get at Mid-Michigan Dental Excellence and the stuff you can buy at the store.
Professional teeth whitening products contain a higher concentration of what the American Dental Association calls bleaching agents. This allows professional teeth whitening to remove more stains in less time than commercial products.
It's also why the ADA recommends having teeth whitening done under the supervision of a dental professional.
It's important to note that not all tooth discoloration is the result of stains, however. In those situations, dental veneers often are a better option if your goal is to create a bright smile.
Dental veneers are bonded to the front of your teeth. They act as a kind of shell that conceals the discolored teeth so other people see a white smile instead.
To learn more about either of these services, just call 989-796-4848.
★ 2. Straighten Your Teeth
Crooked and crowded teeth can cause some people to feel self-conscious about their smiles. If you are one of them, then you are probably aware that straight teeth look nicer.
It's rare for anyone to naturally have a perfectly straight smile. Many times, people have undergone orthodontic treatment to get their teeth in line.
At Mid-Michigan Dental Excellence, we have offer Fastbraces® and Red, White And Blue aligners. Fastbraces use a unique triangular bracket to move teeth in a fraction of the time as traditional braces. Red, White And Blue aligners can change your smile in as little as six weeks because they are focused on moving just the teeth that are most visible in your smile.
Another option is something we mentioned already. When dental veneers are bonded in place, they too can make your teeth look straight.
★ 3. Close The Gaps In Your Smile
Orthodontic care also can be used to push your teeth closer together. This can be beneficial for patients who have gaps between teeth that they would like to close.
Once again, Fastbraces and Red, White And Blue aligners can be used. Likewise, you could get dental veneers to conceal the gap instead.
If you live in or near Alma, MI, our dentist wants to find the solution that works best for you.
★ 4. Repair Chipped Or Worn Down Teeth
People can do a lot of things to put chips in their teeth. You can grind your teeth into one another. You can bite your fingernails. You can use your teeth to open packages. (We don't recommend of any of these things, by the way.)
At the same time, your teeth may become chipped because of something you ate. An unpopped kernel of popcorn, a nut, or a piece of hard candy could put a chip in your teeth. Accidents can have a similar effect.
Over time, that wear and tear and those chips can become more noticeable to you and to other people. If this issue is affecting several of your teeth, dental veneers can be helpful.
For more isolated issues, you may want to consider dental bonding, which uses a composite resin to rebuild the tooth, or a dental crown, which acts as a replacement for the damaged tooth.
What Are You Waiting For?
It's time for you to have the smile that you want. It's time for you to make an appointment at Mid-Michigan Dental Excellence.
It's time to call 989-796-4848 or to contact us online.